How to tackle digital transformation, with the right tools, in the Phygital era
Attention to consumer needs is leading fashion and consumer goods companies to accelerate and adopt new strategies, especially considering recent events as well.
The digital content of a single collection is represented by thousands of photos and videos and lots of text descriptions (emotional and technical descriptions, prices, etc.) that need to be translated into many languages; all of this content can be presented differently by type of customer, market, and type of touchpoint that will use it. In many cases, for a single product, there may be different photos and descriptions precisely in order to achieve a consistent brand identity.
Many brands today have decided to take photos and draft descriptions for their wholesale customers' catalogs as marketplaces or stores with their own ecommerces.
Brands produce a flood of digital content, and managing it manually is now impossible: editorial control and its global distribution are very complex activities not to be managed in an organized way.
Starting a Brand toward digital transformation has, consequently, never been more important and inevitable.
However, the approach toward a transformation of this kind is very delicate, it is in fact a cultural evolution of the company that is sometimes very complex, in which technological tools must be adapted: offering users a simple and pleasant user experience helps to accompany work teams to operate in a harmonious and immediate way; adopting flexible tools means adapting the organization to a new way of working without upheaval and friction.
But what is Digital Transformation?
Digital transformation consists of a radical cultural and technological transformation involving both processes and people inside and outside the Brand. This change requires the thoughtful use of technology offered by the market with the goal of improving all phases of Brand digital content management throughout its value chain.
The main points to consider
1) Involve all of the Brand's digital content.
The first mile to go toward digital transformation in your company is to engage and manage all content created during the product lifecycle:
in product development–photos and descriptions of sketch drawings, photo/video prototypes, and samples,
In promotion – photos and videos of marketing campaigns, branding, PR, social
In B2C and B2B online sales – photos, videos and product page descriptions
Digital content thus represents the main information to support online and omnichannel sales strategies, so it is very important to have attention to the process of writing, checking and publishing the information that describes the product in every respect.
The connection between physical and digital is growing stronger. Digital content describing products represents the information needed to populate online catalogs for both the B2C (e-commerce) as well as for the B2B (order management, wholesale catalog, etc.).
2) Centralize information and processes to make Brand identity consistent in omnichannel perspective
Maintaining a consistent identity throughout the internal journey (from production to product distribution) and among the many touchpoints where all content is enjoyed, may not be so easy. In fact, depending on their nature, content is often created and managed by different business areas (e.g., product department and marketing department) or even external stakeholders.
To make the brand's communication line consistent and unique, it is important that all areas are aligned with a single truth of the product, through a centralized source of information, so that the content creation, approval and publication processes where internal and external users are involved are easily monitored.
Many brands today decide to provide digital content directly to their customers who will use it in their marketplace or e-commerce site so as to ensure continuous digital consistency for the product.
An important mention should be made for the
wholesale
market, where the brand image is used for the relevant sales channels. Optimal
digital consistency
allows the brand to provide B2B customers with the most appropriate content within the guidelines, ensuring continuity with the business strategy.
In short, the controlled and centralized content production chain leads to an inevitable reduction in the time-to-market of content and in doing so to a definite improvement in Brand reputation.
3) Choose appropriate software tools to reduce the risk of error and speed up time-to-market
Centralization of digital product content creation and management processes deserves extreme attention and needs software tools that can ensure that the goal is achieved without stumbling.
Here then is where all content management takes place in one system, where internal teams and external stakeholders (photographers, post-producers, copyright, translators, etc.) collaborate, even remotely, giving the brand more control over processes.
ERP manages so-called structured data and information (price, product data, etc.). Content is managed in a system of Content Management associated with product information. The Product Content Management has within it all the information from the ERP plus all the media content (photos and videos).
A proper tool will help not only manage product information but also processes and team work, clearly planning and assigning all activities.
4) Choose an effective system of for content distribution
The use of an appropriate software solution is very important, especially as it relates to distributing content to the many B2B and B2C touchpoints.
An effective Product Content Management system with content syndication functions allows product information to be distributed quickly across a multitude of channels while keeping the publication status with respect to each individual touchpoint monitored at all times. To avoid publication errors, it is equally important that there is a system upstream that keeps track of the completeness of this information, which is necessary to define ready-for-sale products.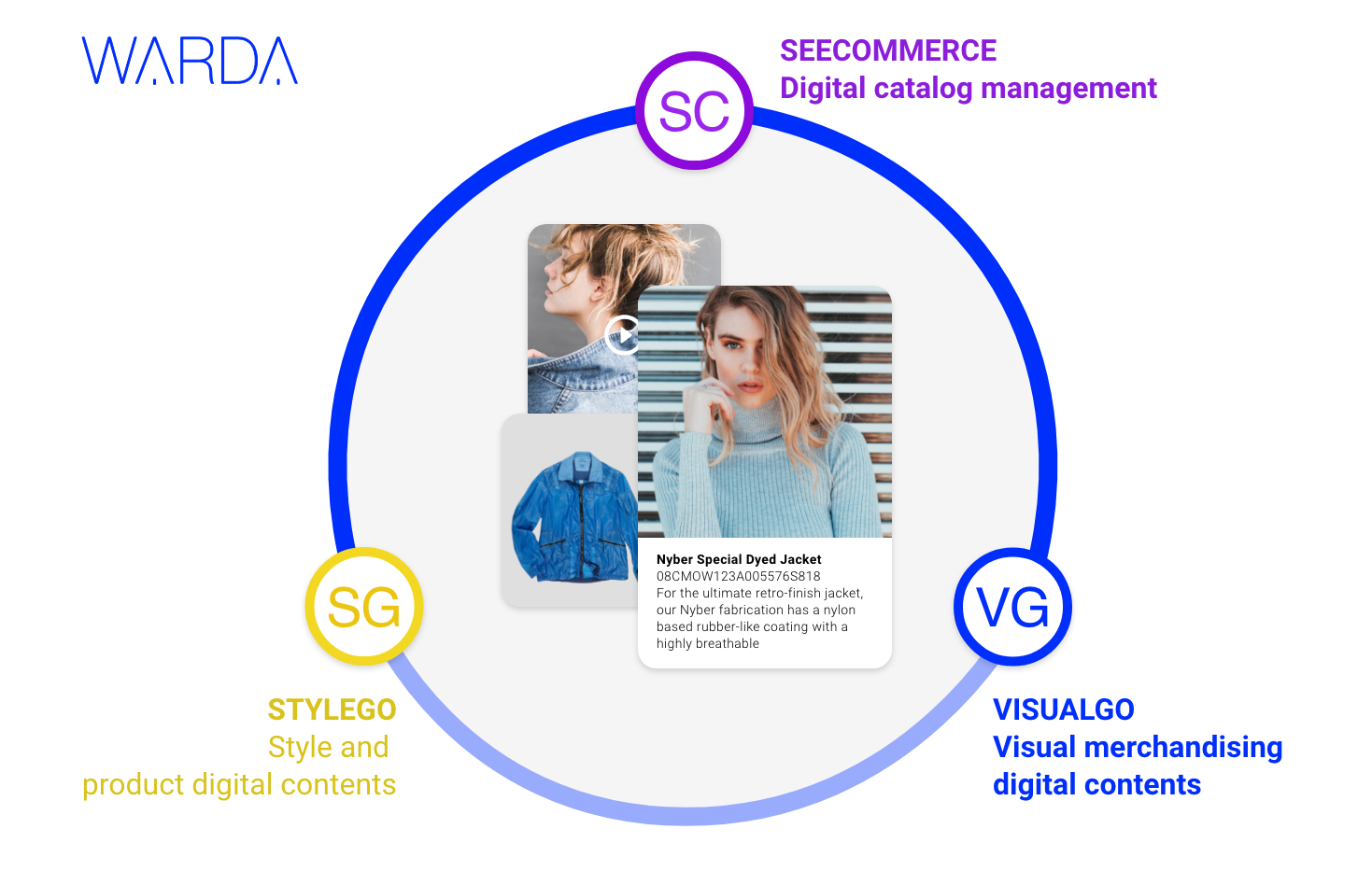 WARDA tools to support Digital Transformation in fashion, luxury and consumer goods
WARDA products are created precisely with the intent of making digital transformation as natural and organized a process as possible.
Through content management, then to the optimization of content creation and distribution activities from an omnichannel perspective, the goal is to improve business processes and Brand performance.
For years engaged in digital transformation projects for clients such as OVS, MONCLER, GEOX, CALZEDONIA, BRUNELLO CUCINELLI and others, WARDA has developed cloud software solutions specifically suited in the fashion and accessories market, used in an omnichannel environment on an international scale available with a pricing model pay-as-you-grow For companies of all sizes and types.
Want to learn more about how our products can make the digital transformation process effective and organized?
Contact us, we will be happy to give you all the answers you need.