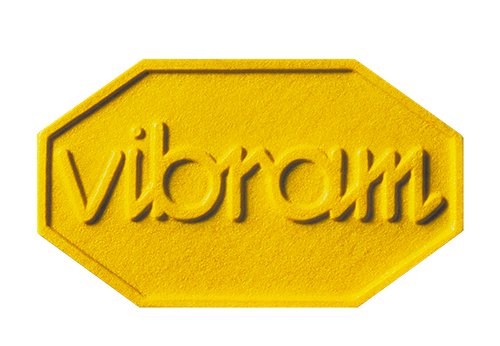 Vibram, a world leader in the development and production of high-performance rubber soles for outdoor, leisure, work, fashion, orthopedics and repair chooses

SeeCommerce for a global catalog digitization project to improve the relationship between Brand, sales force and end consumer.
For more than 80 years, the yellow octagon that identifies Vibram worldwide has been synonymous with quality, performance, safety and innovation in the footwear industry. Internationally headquartered in Albizzate (Varese, Italy), Vibram produces more than 40 million soles a year, devotes more than a million miles to testing, is present in 120 countries and has production, research and representative offices in the U.S., China, Japan, Brazil and Italy.
Replace paper and PDF catalogs in favor of a simple and effective digital touch-point.
Consistently and comprehensively communicate the product to thousands of cobblers/cobblers located world wide.
Turn complex information from ERP into descriptive sheets for use by the Sales and Marketing department.
It is crucial for Vibram to have effective and clear communication with its stakeholders.
For example, for the Repair world, on which the "REPAIR IF YOU CARE" campaign was created to encourage consumers to reuse and repair shoes sustainably, Vibram empowers end customers to find partner shoemakers through the Repair Locator. On the other hand, however, the shoemakers themselves need to interact with the company so that they can quickly and frictionlessly choose which soles to use.
The collaboration with WARDA was instrumental in implementing an end-to-end solution for this purpose through the use of SeeCommerce PxM and SeeCommerce Digital Catalog.
SeeCommerce Digital Catalog viene alimentato in modalità headless dal PxM che permette ai cataloghi di essere costantemente aggiornati allo scopo di fornire ai stakeholder la miglior esperienza di prodotto.
SeeCommerce PxM rappresenta quindi il ponte tra ERP e aree Sales e Marketing, e la piattaforma nella quale risiedono tutte le informazioni di prodotto e dove le stesse vengono arricchite con contenuti indispensabili alla vendita.
Nel SeeCommerce Digital Catalog sono presenti tutti i cataloghi Vibram, consultabili non solo dai calzolai ma anche dal mondo della prima fornitura quindi Aziende e Brand, e dagli stessi agenti Vibram. Sono fruibili da ogni device tramite una navigazione essenziale ma molto efficace con funzionalità studiate ad hoc che permettono il salvataggio dei prodotti e il download di cataloghi personali definiti dall'utente.
In conclusione, un progetto B2B che ha permesso di accorciare le distanze tra Brand e clienti B2B e che ha consentito l'area Sales di migliorare il proprio lavoro.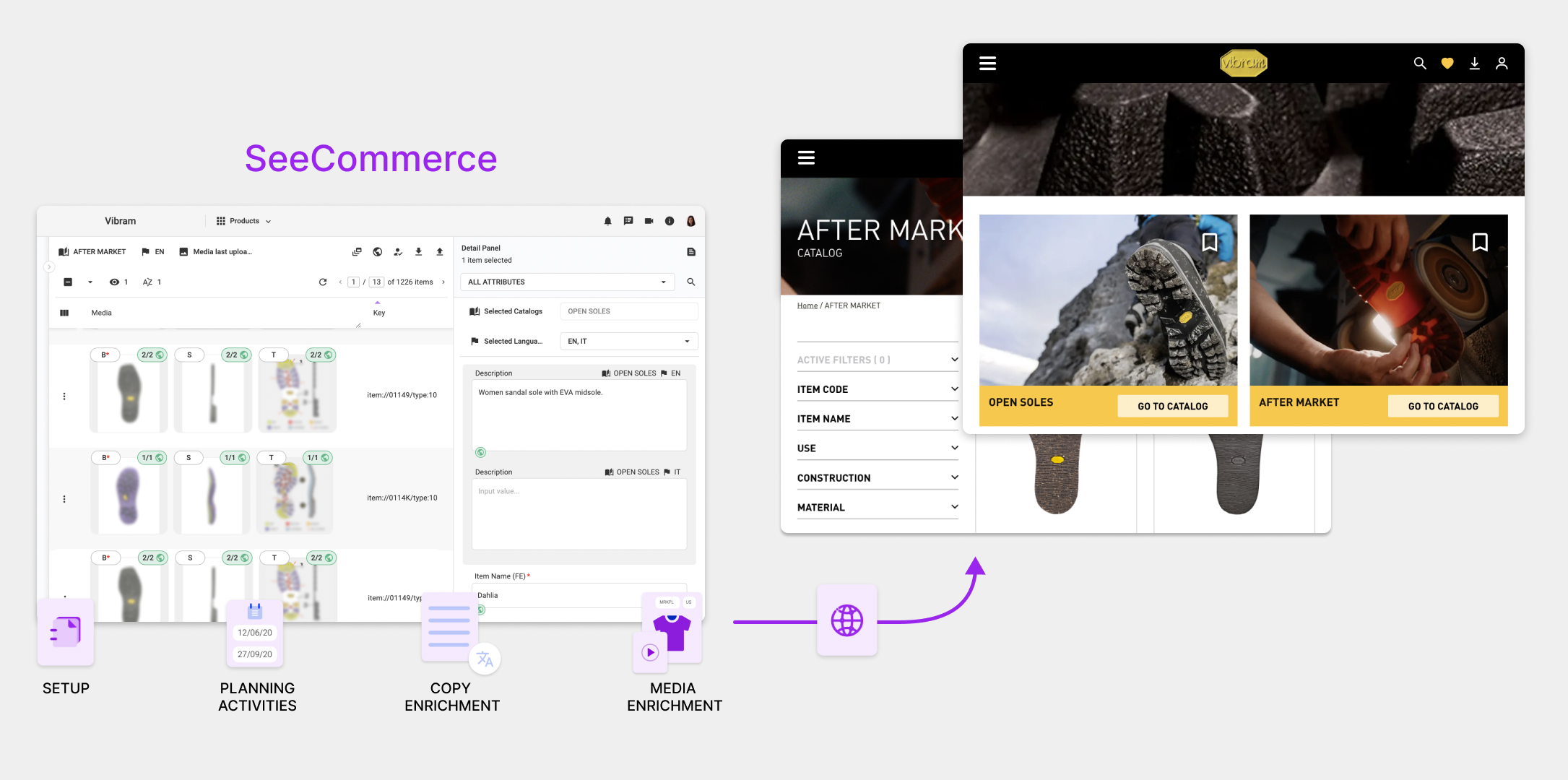 "As a Vibram group we strongly believe in digitization, SeeCommerce has given us the ability to make ERP communicate with Sales and Marketing in a more agile way, allowing us to rely on up-to-date product sheets. With Digital Catalog B2B we have also enabled our customers to interact directly with Vibram products."

Alessandro Pacetti

VIBRAM Global Direct-To-Consumer Director
"This project has amazed me with the remarkable ability of the company's management to follow the path of change. When we talk about projects where technology seems to be the most important cornerstone, we forget that the attitude to change is what may or may not actually lead to success.

The VIBRAM team has embraced the innovation brought by our products by applying it to business processes in the best way possible."

Marco Serpilli
WARDA CEO
Enrichment of ERP product data with emotional content and media
Optimized time to market
Improving the quality of data from SAP
Deleting excel sheets and manual editing tasks
Centralization of digital product assets and improved media file management for Sales and Marketing area
Enrichment of ERP product data with emotional content and media
Optimized time to market
Improving the quality of data from SAP
Deleting excel sheets and manual editing tasks
Centralization of digital product assets and improved media file management for Sales and Marketing area