Collaboration tools to create competitive advantage
I have always looked with extreme respect at e-shops with their perfectly organized and described pages, they always convince me in no time to buy their product. It is amazing how much a well-done presentation can elicit positive and reassuring emotions. The empathy that is created seems really natural in the eyes of those who will put that product in their shopping cart.
However, those who work behind the scenes know how challenging it is, how many teams are involved, and how risky the process leading up to the result is, especially when one considers that the target audience is large and multicultural, the sales channels different, and the number of products considerable.
It would be easy to focus on the presentation of a single product: you take the perfect pictures, add a bold name and an accurate description from a marketing perspective.
Instead, the products are often in the thousands and the teams involved commensurate with the enterprise. Each business compartment has its own expertise, and the product must go through several iterations before reaching final publication.
Let's take a simple example: The ERP manager has catalogued the basic product information according to a nomenclature that is sometimes far too technical, then the e-commerce manager must coordinate all the steps leading to the marketing of the product, making it appealing to the target audience for which it is intended. So it has to involve and coordinate the shooting team, the copy team, the translation team, who have to get to work and share everything on spreadsheets, through e-mail or through sharing apps.
In the end, the result might be satisfactory, but how many mistakes were made to reach the goal? And how much time and money was spent?
SeeCommerce was created with the intention of taking this and many other headaches away from fashion and luxury brands. In concrete terms, it offers a fully centralized environment that provides all functions for product catalog management and enrichment, as well as file management typical of the marketing and communications department; avoiding fragmentation, hence loss of information, and speeding up product marketing.
Complementing these functions are refined collaboration tools that enable even more efficient and focused teamwork:
1. Assignment tool:

Good organization is the secret to efficiency, which is why SeeCommerce has an assignment system that allows the manager to assign, either to specific users or to entire teams, the completion of various parts of the product: for example, the front and back views of products X, Y, Z, are in charge of photographer Diego (an expert in wearable shots), while detail views 1 and 2, which involve still life shots, are taken care of by Sandro's team.
Assignment, accompanied by strategic planning of dates, allows any employee to better organize his or her work by meeting deadlines and the manager to constantly monitor the status of activities.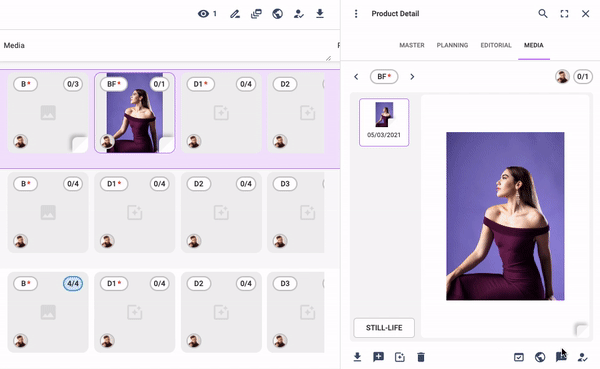 2. Annotation tool:

To facilitate the work of those who check the quality of the shots, an annotation tool is included in SeeCommerce, timely and freehand. Users tagged in annotations will have immediate visibility of them through a notification.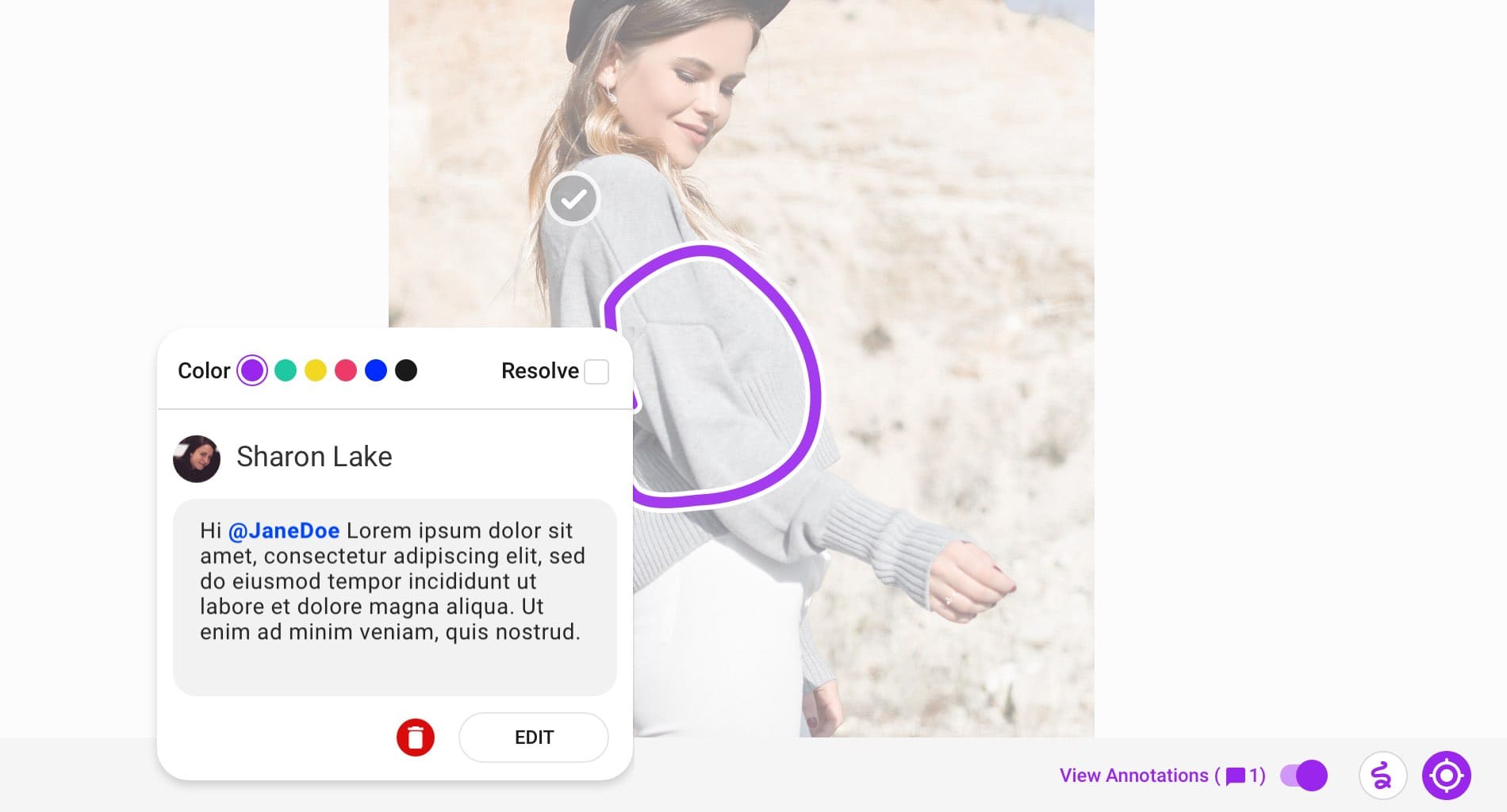 3. Integrated video conferencing:

The quality with which teams communicate with each other inevitably influences the outcome and speed of product commercialization. Therefore, collaborating effectively and immediately in digital content management, production and enrichment decisions is essentially a necessity, especially if many users and partners are involved.
In SeeCommerce, thanks to the built-in video conferencing, you can share with your team the details of a photo or video, discuss with the photographer the changes to be made to an image or, with the editors, the translations of a text, without having to use external applications and therefore without having to resort to screen sharing with all its limitations, especially in terms of display quality. SeeCommerce users also expect an ongoing experience that promotes productivity, not discouraged by the friction of non-inclusive external tools.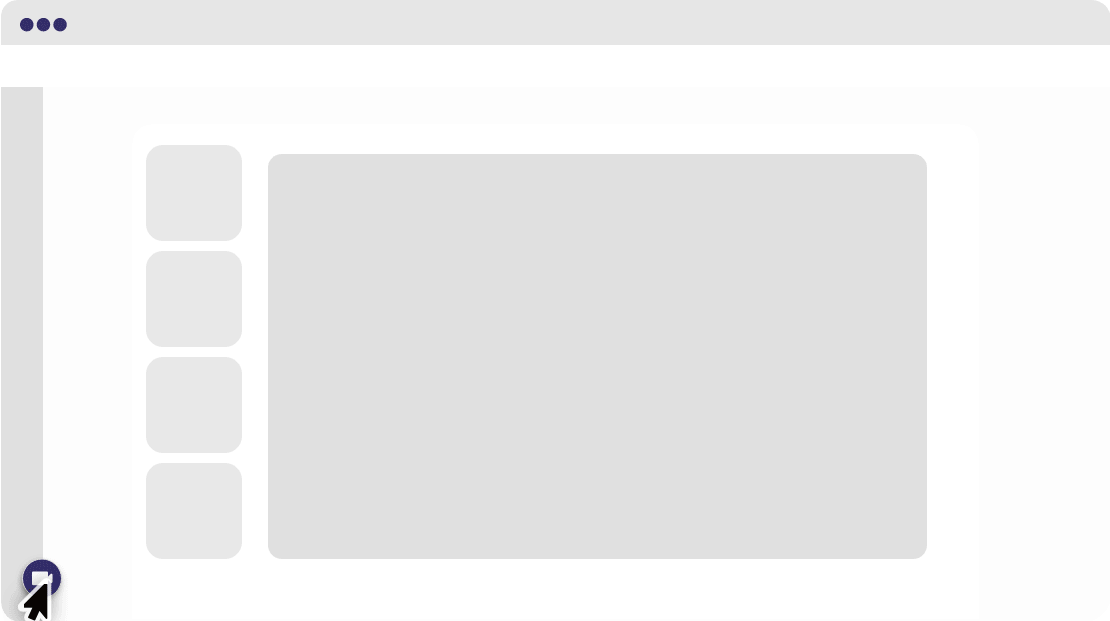 4. Shares and Permissions:

Effective collaboration also means sharing, in total security, files and folders with specific users in your organization or with external partners and agencies. This tool allows any contributor to have access only to the content that is really necessary for him or her, with associated read and write permissions designed to limit unpleasant instances of error as much as possible.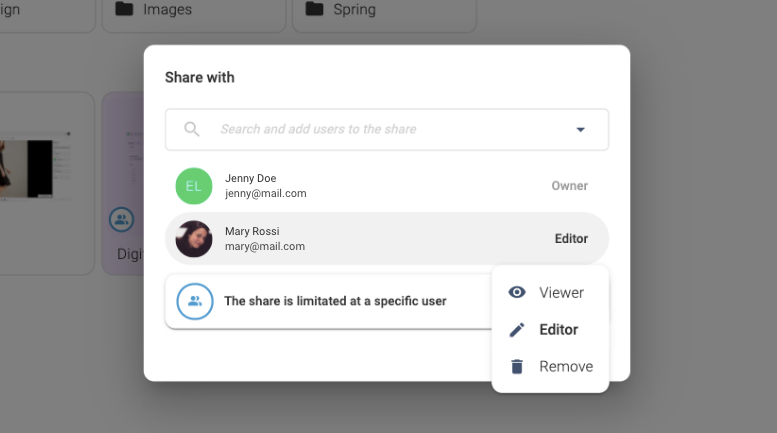 In today's omnichannel environment, brands need tools to match their increasingly complex and sophisticated work processes. Collaboration tools are therefore essential as they ensure maximum performance in daily activities and maximum control over workflow, positively affecting the end user's perception of the brand.
Want to learn more about how our products can make the digital transformation process effective and organized?

Contact us. We will be happy to give you all the answers you need.
STAY UP TO DATE ON NEWS
Sign up for the newsletter!